Laboratories & Activity Rooms
AVIS, the top schools in Hyderabad, provides the best Laboratories & Activity Rooms. The school offers a computer lab where students use the lab resources to learn the use of different kinds of software to enhance their knowledge and showcase their creativity.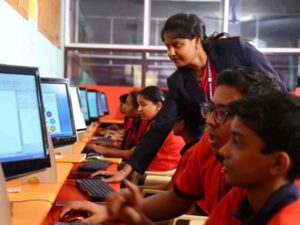 The school provides well equipped Physics, Chemistry and Biology labs for students. In the Science Labs, learning is further enhanced by hands-on activities and the students get an opportunity to apply their innovative ideas and enjoy the unexplored vistas of science.
The Maths lab, in school, provides an opportunity for the students to discover and enjoy mathematics through informal exploration. The activities help students to visualize, operate and reason.
Spacious activity rooms are provided for music, dance, indoor games art, and craft classes.